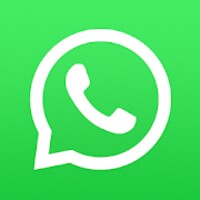 2,334
767.3 M
Chat with all your contacts – fast and easy
Download
27.69 MB
free
WhatsApp Messenger is the most convenient way of quickly sending messages on your mobile phone to any contact or friend on your contacts list. The only requirement is that the other people must have the...
More information
Package Name
com.whatsapp
License
Free
Op. System
Android
Category
Language
Author
Size
27.69 MB
Permissions
Downloads
767,309,888
Date
Feb 11th, 2017
SHA256
770fb7dc4b175d5546b5a70e93e7ce9ea60db894686fb94b419297e089a5ba4e
Architecture
armeabi-v7a
Content Rating
All ages
Why is this app published on Uptodown?